Get Faster, Reliable and Managed WordPress Hosting with MilesWeb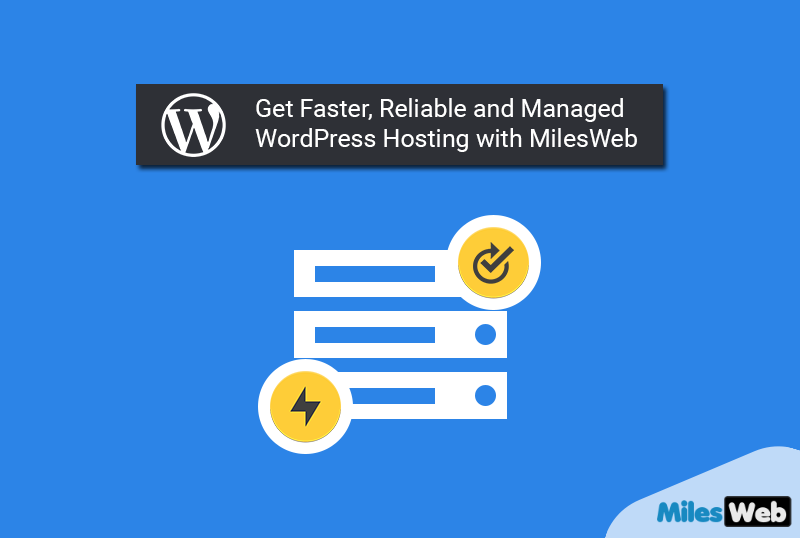 As a WordPress developer, you have countless responsibilities such as web development, regular backups and security and server maintenance. All this takes a little extra time and effort, thus you have to compromise on growing and scaling your business.
You can either hire another developer to take care of these tasks or outsource to someone. Both the options will add up an extra expense to your web development business. How about getting managed WordPress hosting service as an add-on to your web hosting India plan? That will take care of all your server-side aspect of your work.
MilesWeb's managed WordPress hosting service will set you to worry-free by handling all your server related tasks. It is an ideal choice for developers who want to save their time by not being concerned about daily updates, backups, server maintenance etc. Rather spend more time being productive and work on things which are going to make them money.
MilesWeb Managed WordPress Hosting
Choosing the best WordPress hosting plan can be monotonous. You are ready with your requirements but you also don't want to take up a plan that will limit the features of your site. You need one such provider that has high-platform to compete for your speedy website. By selecting MilesWeb WordPress hosting you will surely meet your expectations.
Let's have a glimpse of what exactly MilesWeb cheap WordPress hosting plan embraces.
MilesWeb has WordPress hosting plans for almost all types of websites. The price range starts from Rs.69 per month. All their plans come jam-packed with a variety of features and Jetpack.
They have four plans that have Jetpack free version feature integrated with them and three plans with either Jetpack Premium/Professional features.
There are some other features of MilesWeb that you should be aware of:
Server level caching
Your plan includes LiteSpeed cache plugin, to manage the complex caching plugins and enhance your WordPress website. You can enable/ disable this feature as per the need of your website.
SSD storage
Your complete website data is stored on an SSD drive when it's hosted with MilesWeb. An SSD is much faster as that compared to SATA drive. It uses the flash mechanism to store data on the disk. Hence, it is fast and delivers rapid speed for your web pages.
Free SSL
An SSL certificate has become mandatory these days as per the Google announcement. Besides, it is also considered as one of the aspects in your website's SEO. Therefore, MilesWeb has already included an SSL certificate with your WordPress hosting plan to keep your website's data secure by decrypting all the information that is exchanged on your website and avoid being marked as spam by Google. As a result, you build more trust among your visitors and ultimately they are more likely to buy your services without any insecurity.
Jetpack
As previously mentioned, Jetpack free, premium and professional features are included with MilesWeb WordPress hosting plans. You don't need to pay any extra charges to avail the features of Jetpack.
Preconfigured WordPress
You don't need to download and install WordPress manually for your hosting server. MilesWeb WordPress plans already have WordPress installed and configured on your platform so that you can instantly launch your website and quickly get started.
Cloudflare Railgun
With the help of Railgun (a wide area network technology), you can increase the performance of non-cached web pages. It also keeps a check on the connection between Cloudflare CDN and server to make sure it is high-speed.
GZIP/Brotli Compression
Their built-in GZIP/ Brotli compression software with all their WordPress plans ensures that your website runs fast, no matter if it's big or small. It plays an important role in boosting up the delivery time of your web pages. It compresses the size of data sent to the visitor's browser from your server and drastically improves the speed of your WordPress website. Not only this, but it also minimizes the server load.
SFTP Access
SFTP is a secure version of FTP – File transfer protocol. FTP is a protocol used for transfer files between your computer and the web browser while an SFTP is the secured version of FTP. Before the information is shared between the server and computer, SFTP first authenticates the identity and then establishes a secure connection between the two.a
WP-CLI
WP-CLI is a powerful toolset offered that helps to connect your site from the command line. It lets you use commands like wp-doctor and wp-profile. This toolset is offered with MilesWeb's managed WordPress hosting.
Conclusion
If your aim is to focus on your business venture then you can't let any factors affecting your growth. The day-to-day hassle of managing your server can take away your precious hours that are important for your business.
Once you have chosen WordPress as your content management system, then there are multiple factors involved for maintaining and hosting your platform and MilesWeb is the ultimate choice when it comes to managed WordPress hosting.